Piano Restoration, Tuning, Repair, and Service
Three Generations of Excellence and Experience…
Attention to Detail That Makes the Difference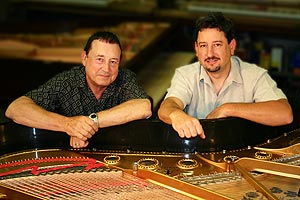 Precision Piano Services specializes in the restoration of the world's finest quality pianos, with the attention to detail that only a small, family owned company can produce.
Founded in 1989 by Franco Skilan, Registered Piano Technician (RPT), who had worked alongside his late mentor and father Giovanni Skilan (shown in picture) for over 45 years, Precision Piano Services has restored thousands of the world's most extraordinary pianos.
Among those pianos are Steinway and Sons, Mason and Hamlin, Bösendorfer, Bechstein, Baldwin, Knabe, Chickering and Sons, and dozens of other fine pianos from all around the world.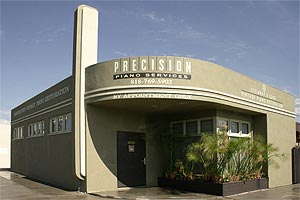 If you are a passionate enthusiast about your heirloom piano and are looking for someone who shares your passion, someone who provides a level of expertise and attention to detail impossible to replicate in a big box model of operation, you've found the right place. You'll receive an ideal blend of modern advances with the old world craftsmanship that is difficult to find in a world so much different than the one in which your piano was made.
As you explore this site, which you will want to do if you're the kind of person we know will appreciate us, you will discover a rich treasure of our heritage and the vintage pianos we've had the privilege of breathing new life into, and, making many piano owners cry tears of joy when they see and hear their "new" piano once it's ready to leave our shop. You'll get glimpses into the processes that take place and develop an even stronger bond with your cherished piano as you envision it being put into the hands of true masters of their craft.
When you commission us to work on your piano, you are embarking on a journey we will take together. This goes well beyond an ordinary business arrangement; calling or emailing us to discuss your piano is the start of something much more meaningful. We very much look forward to meeting you.
---
A brief overview of the piano restoration and complete piano services we offer:
Complete Piano Services:
Piano tuning
Repair and regulation
Piano voicing
Piano restoration
Piano refinishing
Concert tuning, voicing and regulation
Steinway Teflon action replacement
Action replacement
Piano soundboard repairs and replacement
Keyset replacement (with geometry corrections)
Keytop replacements
Piano consultation services, appraisals and estimates
PianoDisc and Yamaha Disklavier, and Steinway & Sons Spirio Player Piano Systems:
PianoDisc sales, installations and service (PianoDisc Certified Technicians), PianoDisc Silent Drive HD Certified Sales and installations and Low Profile Rail Options
PianoDisc player system upgrades (Silent Drive HD with IQ, Wireless iPad installations, Silent piano installations, Optical ProRecord and ProScan options)
Yamaha Disklavier repairs and calibration (Yamaha Certified Technicians for Mark I thru Mark IV Series grand pianos and upright pianos)
Steinway & Sons Spirio Player Piano Systems — Factory Trained Service and Calibration
Piano Information on This Site:
Proud RPT Member: