Piano Service, Tuning, Repair, Rebuilding, and Restoration
Steinway & Sons Pianos Are Our Specialty --
The Ultimate Touch and Tone of Your Piano is our Goal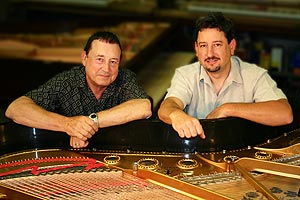 Precision Piano Services specializes in the repair, rebuilding, and restoration of fine quality pianos, with a special emphasis on Steinway and Sons, Mason and Hamlin, and Bösendorfer. We have also been commissioned to restore countless other rare and exotic, hand-crafted pianos from around the world, of which only a handful are listed below.
Not only will you benefit from the personalized service of our small, family-owned company, but you will have the confidence of knowing that your piano will be cared for by professionals who share your love of the world's most important musical instrument!
We are Franco and Giovanni Skilan, a father and son technician team with over 80 years combined experience in piano technology. Our fully equipped, state-of-the-art restoration studio enables us to provide you with the kind of piano service that discriminating individuals expect when their cherished piano is entrusted in our care.
To date, we have restored well over 2500 Steinway and Sons grand pianos and upright pianos, and many other hand-made, extraordinary instruments such as:
A.B. Chase, Baldwin, Bechstein, Bluthner, Chickering, Falcone, Hallet & Davis, Heintzmann, Kawai, Kimball, Knabe, Krakauer, Marshall & Wendell, Mathushek, Schimmel, Steinert, Weber, Wurlitzer, Yamaha, and many others.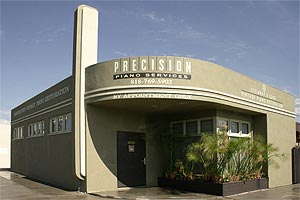 Our purpose is not to buy or sell pianos, and we don't perform the type of wholesale, low-end "restorative" piano work that is so prevalent in the piano restoration industry today. When we evaluate your piano for its potential, you get the confidence of knowing that we will not try to sell you another piano, or advise you to do the least possible work needed in order to simply make your piano work. Our goal is to bring out the ultimate touch and tone that your heirloom piano was designed to deliver.
Our Studio, located in North Hollywood, California (10 miles north of Downtown Los Angeles), has serviced and restored numerous pianos from throughout the United States, as well as many imported directly from Europe and other parts of the world. No matter where you are located, we can either service your piano ourselves, or point in the right direction so you can find a qualified and reliable piano technician.
Please feel free to browse our site for detailed explanations of our services. If you would like to set an appointment to visit our studio, or simply have questions about the piano services we offer, please email or call us (818.769.5902) and we'll be happy to help you.
---
A brief overview of the piano restoration and complete piano services we offer:
Complete Piano Services:
Piano tuning
Repair and regulation
Piano voicing
Piano restoration
Piano refinishing
Concert tuning, voicing and regulation
Steinway Teflon action replacement
Action replacement
Piano soundboard repairs and replacement
Keyset replacement (with geometry corrections)
Keytop replacements
Piano consultation services, appraisals and estimates
PianoDisc and Yamaha Disklavier, and Steinway & Sons Spirio Player Piano Systems:
PianoDisc sales, installations and service (PianoDisc Certified Technicians), PianoDisc Silent Drive HD Certified Sales and installations and Low Profile Rail Options
PianoDisc player system upgrades (Silent Drive HD with IQ, Wireless iPad installations, Silent piano installations, Optical ProRecord and ProScan options)
Yamaha Disklavier repairs and calibration (Yamaha Certified Technicians for Mark I thru Mark IV Series grand pianos and upright pianos)
Steinway & Sons Spirio Player Piano Systems — Factory Trained Service and Calibration
Piano Information on This Site:
Proud RPT Member: