Piano Services Featured in This Gallery:
---
Piano Repair and Restoration - Making an Educated Decision
Evaluating the Piano - Step One to a Successful Piano Restoration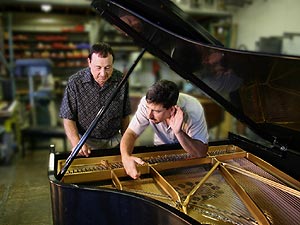 First and foremost in making a decision about whether or not your piano is worth restoring, you must evaluate the piano's physical condition. Is the piano beyond repair? That is to say, is it really worth the time and expenditure to repair or restore the piano? What is its current value, and what will it be worth once the piano restoration is complete? In the current new piano market, there are numerous grand pianos and upright pianos being produced that are actually quite inexpensive, but sound and look better than the vast majority of "no-name" pianos of yesteryear.
We believe that you must take a good hard look at "grandma's piano" and choose the best course of action for yourself. We have restored countless lesser quality pianos that far exceed the expenditure put into them, and with very fine results. Clients were made aware of this fact before the piano repair procedures were performed and understood exactly what kind of piano they had.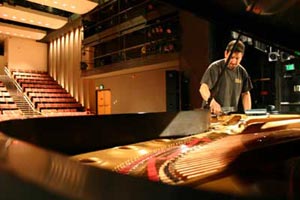 To the left, Franco is tuning one of the 3 concert grand pianos at the Thousand Oaks Civic Arts Plaza. Precision Piano Services has been the official piano technician service for nearly 20 years, since the grand opening of the facility.
Please feel free to email or call us (818.769.5902) with your piano service questions or inquiries.
---
All images in our Piano Services Gallery can be enlarged by clicking on the image.
---
Piano Services Featured in This Gallery: