Piano Services Featured in This Gallery:
---
Factory Trained and Authorized Player Piano System Technicians
PianoDisc Player Piano Systems Installed — Steinway Spirio® Player Piano Service

July 2010 News Release
In a highly anticipated move from the world's number one player piano system maker, PianoDisc, they have officially introduced SilentDrive HD. SilentDrive HD takes player piano recording and performance levels to entirely new heights.
Over the last 9 months, Franco Skilan RPT of Precision Piano Services has been involved in Beta testing the new HD components in his studio in North Hollywood, CA, as well as orchestrating the installation and calibration of the Bösendorfer grand piano that award winning music composer, Danny Elfman, has been using in his Hollywood, CA studio. "In a word, this new system's playback and recording performances are... remarkable!" says Franco. It was impressive enough for Danny to endorse the PianoDisc SilentDrive HD player piano system:
"When I purchased a wonderful Bösendorfer grand piano for my new studio, I knew that I wanted to outfit it with the best MIDI playback system I could find, so the piano could be used for both arrangements and recording. The SilentDrive HD system quickly became the top choice and I've been very pleased with its performance."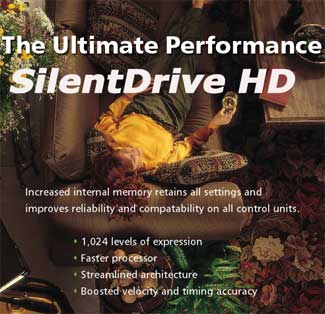 No other player piano retrofit system on the market offers this combination of recording and playback performance. With PianoDisc's streamlined architecture, installation into virtually any piano is simple and unobtrusive. With the addition of the proportional ProPedal option, every nuance of the recorded performance is captured and duplicated for the listener. With the vast new processing power, and boosted velocity and timing accuracy, playback is virtually flawless. In a giant leap forward, low volume control is also enhanced to levels unheard of before.
You can have the confidence of knowing that PianoDisc's 20+ years of experience and innovation behind the SilentDrive HD system is also backed up with a 5 year parts warranty. They have the additional advantage of compatibility with PianoDisc's vast library of musical selections to choose from.
Current PianoDisc owners even have the opportunity to upgrade their current SilentDrive system to the new SilentDrive HD!
To see and experience the newest standard in player piano technology, SilentDrive HD, or to upgrade your existing PianoDisc system, contact Franco Skilan at 818.769.5902.
---
PianoDisc IQ SilentDrive HD - The World's Most Advanced Player Piano System
The IQ Wireless SilentDrive HD Player Piano system is the latest and most advanced offering from PianoDisc. It works seamlessly combining the Apple Airport Express and iPad, iPod, iTouch or even directly from your iPhone. There is even a brand new control application available to conveniently store your music files, customize audio settings, and stream the free PianoDisc Internet Radio station wirelessly to your piano.
RUN TIME: 3 minutes, 44 seconds
The video above was produced using a very rare, one of a kind AB Chase grand piano in full high gloss, gold leaf trim, and custom high gloss red plate restored by Precision Piano Services in 2011.
---
Steinway & Sons Spirio® Reproducing Player Piano Systems — Factory Trained Service and Calibration
In 2015, Steinway introduced their new factory installed, ultra-high resolution reproducing player piano system known as Spirio. The Spirio system incorporates the finest technology in player system electronics, reproducing the original performances of a vast number of famed Steinway artists.

Features of the system include:
Individual note accuracy of 1/800th of a second
Dual closed-loop servomechanisms precisely reproduce BOTH sustain and soft pedaling with 256 distinct positions
All performances are recorded live on Steinways' Master Recording Pianos and reproduced in full high-resolution
Factory installation insures uniformity and consistency throughout the entire new Steinway piano line
Steinway's entire catalog of performances will be provided to Steinway Spirio owners at no additional charge—a first for the player piano industry
Steinway & Sons will provide a complimentary iPad to wirelessly connect with each Spirio, and an attractive Steinway Spirio app puts the company's growing library of world-class performances at the owner's fingertips
Precision Piano Services offers Factory Trained Service and Calibration for the Spirio reproducing system in the greater Los Angeles area. Critical adjustment and regulation of the Spirio player system guarantees the ultimate in performance and reproduction. If you are the proud owner of a new Steinway & Sons equipped Spirio reproducing piano, Precision Piano Services is here to help maintain your instrument to the highest level. Call us for information regarding a Spirio service appointment.
---
Piano Vorsetzer
RUN TIME: 1 minute, 22 seconds
This video demonstrates our own one of a kind Vorsetzer Player System utilizing custom built PianoDisc solenoids and components. Just as those used by many high end piano manufacturers' factories, all of our newly assembled actions run through a minimum of 12-24 hour break-in period (20,000 to 40,000 repetitions). This procedure ensures proper regulation and tuning stability, hammer break-in and voicing stability right from day one of use in our customer's home or studio. This system is designed to work on a wide variety of piano actions, and has been in use now in our facility since January 2012.
Piano Services Featured in This Gallery: