How much does it cost to tune my piano?
How much will it cost to rebuild my piano?
What does it cost to refinish my piano?
Do you do appraisals, estimates, and evaluations?
How do identify my Steinway piano?
Is my piano worth restoring?
How long does it take to restore my piano?
Which is the best piano made?
Should I replace the soundboard in my piano?
Are all soundboards created equal?
Am I ruining my Steinway if I change the soundboard?
What are Steinway Teflon action parts, and why don't they work properly?
What kind of replacement piano parts do you use?
What are composite action parts?
Why does my Steinway and Sons piano play so heavy?
Why are all the keys sticking on my Steinway piano?
All the parts on my piano are original…why do I need to change the parts?
My piano was "rebuilt" about 20-30 years ago, but it doesn't sound or play right…what's wrong?
I found a GREAT deal on a used, rebuilt Steinway…should I buy it?
If it is so hard to find a well restored vintage Steinway, what should I do?
Do you buy and sell pianos?
How do I choose a quality piano restoration company?
Who are Franco and Giovanni Skilan of Precision Piano Services?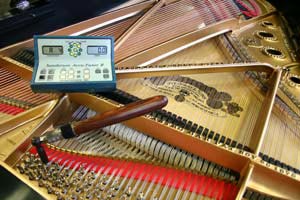 Some of the most commonly asked questions about our services relates to piano tuning and how much it costs. The simple answer to the question is that all pianos differ, and the rates will vary. Piano tuning is exactly what it implies… the tuning pins will be moved (with a tuning hammer), and set to the appropriate tension in order to produce the correct sound.
The way a piano plays is NOT affected by normal piano tuning. In fact, the action (or mechanics) of the piano are not regulated or removed during the course of normal piano tuning. If the action of the piano has a problem before the piano is tuned, it will have the same problem after tuning unless repairs or regulation are performed to correct it.
Any problems a piano may have will be identified, and the customer will be informed of any issues that need to be addressed, either before the tuning begins, or within the course of the tuning as they arise.
On well-maintained pianos that have been tuned regularly (every 6 months) and do not require repair or regulation, the typical service call tuning charge is $150-$225 (within our normal service area).
Pianos that have not been tuned for at least year or two, or have undergone a drastic climatic change, typically require what is called a "pitch raise" (basically a double tuning), and the rate will be between $225 and $300 (within our normal service area).
Pianos that have not been tuned "for years", or that do not play properly, should first be evaluated to insure that the instrument is capable of maintaining a proper tuning, and it is worth putting the money into the piano to bring it back to shape (see below).
---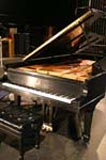 This is a fair and complex question. For the most part, we can perform restorations to many differing levels of budget and customer need…within reason.
For example, we have seen MANY older pianos come through our studio where a basic interior cleaning, action regulation, tuning and voicing is all that is needed to restore the piano to a wonderful playing and sounding condition. These services can run anywhere between $750 and $3500 depending on the extent of the work.
In other cases such as basic interior rebuilding which includes, restringing, damper work, hammer replacement, regulation, tuning and voicing, the prices can range between $3500 and $9500. This type of rebuilding is commonly used on lesser quality pianos, to put them into satisfactory condition, without going way beyond the value of the piano when it is complete.
The typical interior restorations we see for vintage Steinway and Sons pianos, from say 1920 to the more current production models, typically range in the $9000 to $22,000. These pianos will generally need and receive new pinblocks, soundboard repairs, bridge repinning, new Steinway and Sons Factory original or German Renner action parts, capo and agraffe work, keytop replacement or ivory repair, key repairs, damper action replacements, and thorough regulation and voicing.
A top-end, full-blown interior restoration of a very old (pre-1920), or especially worn-out Steinway piano can reach upwards of $25,000 to $45,000. In addition to the typical Steinway piano restoration above, these pianos will include: new soundboards with new bridge caps, new keyset duplication, keyframe rebuilding, rim reconstruction and repair, complete new damper systems, and more extensive voicing and regulation work.
Still, this restoration, although expensive, is by far a better bargain than the purchase of a new hand-made, high-end quality piano. Most start at $45,000 for the smallest of baby grands and reach upwards of $250,000 for concert grands and art-case style cabinetry!
---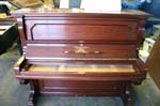 Piano refinishing costs will vary depending on the size, color, texture and quality of the finish being applied. From the smallest upright piano with the most basic finish applied, prices will start at $2000, and go up to about $7500 for full sized Uprights or pianos with very intricate cabinetry.
Typical mid-sized parlor grands, in a basic ebony-satin finish, with hardware plating and case repairs, generally cost between $3500 and $5000. As the pianos get bigger, or the finishes become more exotic (such as high-gloss, or ornate carvings throughout), costs are generally between $5000 and $12,500. Every piano is different and must be evaluated individually in order to accurately estimate a refinishing cost.
---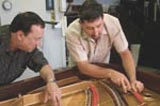 We are often asked to do a piano estimate or evaluation for repairs. This is one of the most important steps an owner can take in order to insure that they are spending their money wisely on an instrument, and whether or not a restoration should even be performed.
In the course of an evaluation, the piano is looked over closely for its current condition and its potential for restoration. Components given great attention include: the soundboard, plate, action and damper system, pinblock and belly, pedals and trapwork, and finally, the finish and veneers of the instrument. Based on these examinations, a rough estimate of the instrument's current retail and wholesale value are determined, as well as the costs for restoring the instrument to the highest level of the customer's expectations.
A formal proposal is then compiled and mailed to the customer. Faxing and emailing are also provided as a service to those that need the evaluation quickly. Typically the rates for an evaluation are approximately $150 to $250 (within our normal service area).
With advance notice, we also accept pianos brought directly to our facility by professional piano movers from around the country and throughout the world. We have a minimum $350 shop space fee that will allow the piano to stay in our facility for up to 2 weeks so we can thoroughly evaluate the instrument and prepare a formal proposal.
If your piano does not have name recognition on the fallboard, then a thorough evaluation is needed in order to insure that the money you spend does not far outweigh the piano's value, and that the restoration will produce a piano that will be playable and enjoyable for years to come.
The fact of the matter is that there are MANY good quality, reasonably priced, middle-of-the-road, new pianos out there that many people could (and often should) buy. This causes the value of many older, lesser-known pianos to be well below what it costs to do a proper restoration. Our expertise will provide you with relevant facts to make an informed decision, but it is up to you at that point to decide whether or not restoring an older piano is worth it you.
---
These pictures illustrate where to look for the Serial and Model Number (above left), and Part Number (above right) for your Steinway and Sons grand piano. These numbers can be easily identified on the plate, underneath the music rack (which simply slides out of the piano). If the numbers are not on your Steinway, it has more than likely been refinished and carelessly left off the instrument by the refinisher. Not to worry—Part Numbers and Serial Numbers are in multiple places on Steinway instruments—it will just take a little more effort to find them! The word "Ebonized" indicates that the piano was destined to have a black finish.
---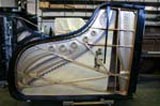 This is by far our most commonly asked question. After all, restoring a high-quality grand piano is an expensive endeavor indeed. But with the cost of new high-end, hand-built pianos starting at $45,000 (for the smallest baby grands), and going upwards of $250,000+ (for concert grands and art-case style cabinetry), the opportunity to restore an older, vintage Steinway and Sons, Mason and Hamlin, Bösendorfer, Baldwin, etc., is by far a better bargain! In fact, in many cases, the results of restoring a vintage hand-made piano exceed the standards of some brand new pianos.
If your piano does not have name recognition on the fallboard, then a thorough evaluation is needed in order to insure that the money you spend, does not far outweigh the piano's value, and that the restoration will produce a piano that will be playable and enjoyable for years to come.
The fact of the matter exists that there are MANY good quality, reasonably priced, middle-of-the-road, brand new pianos out there that many people could (and should) buy. This leaves the resale value of many older, lesser-known pianos well below what it costs to do a proper restoration. It is up to the customer at that point, to decide whether or not restoring their older piano is worth it to them. At least you will be armed with the facts in order to make the decision that is right for you.
---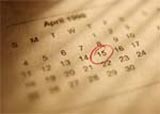 The vast majority of our piano restorations that do not include refinishing of the instrument take approximately 10-20 weeks to complete. Of course, every piano, and every restoration are different. If a piano is to be refinished, have a new soundboard and new keyset installed, and restored to the highest degree, the process could take as long as 9 months to finish.
---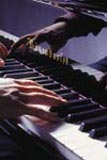 This is a very commonly asked question. The best answer is that there is no "one" piano that is the best. There are numerous high quality, hand-made grand pianos that can be considered extraordinary. Following is a short list of just a handful of the many piano makers we consider exceptional.
Steinway and Sons is the most well known instrument ever produced, and has a proven track record of building concert level instruments. With this quality, comes a reputation and respect that makes Steinway the benchmark for all others to follow. Founded in 1856, Theodore Steinway took the art of piano construction into the modern era, establishing patents, that to this day, other manufacturers have adopted and used as the standard for piano building.
Introduced at Winter NAMM 2005, is the Model A grand piano in the 6' 2" configuration. Steinway originally introduced the model A (6'1") in 1878, and later produced 2 larger versions of the same model, culminating in the (6'4"). The newest piano is based on the second largest size. Introduced at Winter NAMM 2006, is the rebirth of the Steinway Model O grand piano in the 6' 10 and 3/4" size. These are American Steinway's first new grand piano introductions in many, many decades!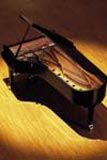 Bösendorfer, a uniquely designed and built Austrian piano, has an impeccable reputation for its power and tone, and for the extraordinary workmanship that goes into making each instrument. These pianos are built in the "old-world" tradition of hand craftsmanship even to this day.
Mason and Hamlin, built in Boston, MA, was established in the 1800's. They were Steinway and Sons most major competition, not only in piano building, but on the concert stages of America for many, many decades. Their patented Tension Resonator System utilized steel bars that kept the frame of the piano pulled together and under tension.
Newly introduced at winter NAMM 2005, is the Mason and Hamlin Model CC94 (9'4") concert grand with 2 tension resonators. Only 15 Vintage CC concert grands in the 9'4" configuration were ever produced. The newest version is based on that design. Impeccable workmanship and excellent scale designs make Mason and Hamlin's sought after by many pianists.
Yamaha, Japan's oldest and most prolific piano maker, is one of the best dollar-to-value ratio pianos ever produced. Incorporating all of the most sought after technological break-throughs in piano building, these pianos are truly spectacular in fit and finish. Yamaha has also taken the player piano industry by storm. The Yamaha Disklavier player piano system is by far the best reproducing system on the market, and accounts for a large portion of their new piano sales. The Disklavier system is only available as a factory installed option on their new pianos, and is not available to install on any other pianos.
---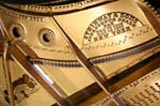 We are firm believers in the installation of new soundboards into high quality instruments such as Steinway and Sons pianos. The nay-sayers that believe one must keep the original soundboard of an instrument at all costs are unrealistic in their expectations and are not facing the basic laws of nature concerning piano soundboards.
To expect a piano soundboard that is 75-125 years old to retain its original crown and cellular structure in the spruce is ludicrous. The fact of the matter exists that soundboards have a life span. Pianos are subjected to 12-15 tons of pressure in the strung and concert pitch condition. This pressure is spread throughout the entire body of the instrument, and there is an enormous force at work to push and pull the inner and outer rims, belly, and soundboard apart. The downward pressure that this force exerts on the soundboard (also known as the bearing), could be as much as 200 to 300 pounds combined.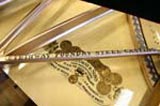 To expect the soundboard to withstand this force for 75+ years, and retain its original crown, tone and sustain, simply will not happen. The effects of this force are observed even more readily on the larger sizes of pianos, from 6 feet and up. A 9 foot Vintage Steinway soundboard panel, when removed, is usually flat as a table, and, more often than not, reversed in crown.
If the new soundboard that is to be installed, is duplicated to the exact standards of the original soundboard being removed, then the piano will sound as it did when it was new. We are not here to reinvent the wheel, or second-guess Steinway's piano building processes. When a new board is installed, it is as the original was.
All this being said, we also believe that considering the expenditure involved in the installation of a new soundboard, it is definitely not for everyone. If the budget for the restoration of the piano cannot absorb the cost of a new Board, then a thorough shimming, gluing and preparation of the old board is a must. Replacement is generally reserved for those that expect the ultimate in tone reproduction from their Vintage Steinway.
---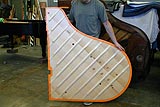 One of the most disturbing trends we are now seeing in the cheap wholesale piano restoration business is the installation of low-grade, generic soundboards into high quality pianos such as vintage Steinways. These boards are made from a "standard" generic pattern, meaning they are NOT duplicated to the specifications of the original soundboard that is being removed from the instrument.
Board thinning (or diaphragmization), rib material, bridge notching, and placement are all being set to this standard in order to speed up production and cut down costs. These soundboards are very inexpensive, but have no value in high end piano restoration. We have even seen these cheap soundboards available for purchase on eBay!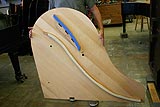 When we replace a soundboard in a vintage Steinway, great care is taken to reproduce the diaphragmization, rib position and material, and bridge locations to exactly match the dimensions of the original board removed from the piano. In our opinion, this is the ONLY way to accurately ensure that the piano will sound as it did when it was new, and faithfully reproduce the tone that piano makers such as Steinway and Sons originally intended for the era of the piano being restored.
---
If the new soundboard is duplicated to the exact characteristics of the original board that is removed, then absolutely not!
---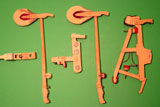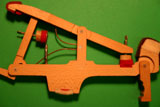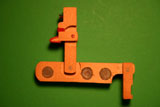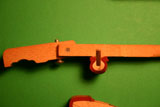 In the 1960's, Steinway developed Teflon® action components which were used from that time until the very early 1980's. These components feature Teflon circles around the centerpins of all the moving parts of the action components which include the hammershanks, wippens, damper underlevers, and parts of the Sostenuto system and lyre. There were 2 sizes of Teflon circles: small and large. Teflon components can be repinned with special straight reamers and pre-cut pins that are supplied in repair kits still available from Steinway New York.
In theory, Teflon will not wear out like a normal felt bushing and can be reamed to an exact standard of friction. This sounds like the perfect material to use on a piano component that requires consistency, right? In practice, the Teflon circle is subject to the changing characteristics of the wood surrounding the material, and therefore pinning becomes inconsistent.
In humid weather, the wood swells around the Teflon causing the bushing to tighten up and increase friction on the centerpin. The result is increased touch weight and sluggish parts. In dry weather, the wood shrinks around the Teflon, causing a loose centerpin with little to no friction for the opposite problem. In the worst case situation, the action will be extremely noisy and click and clack as if playing a typewriter!
Repinning and reaming Teflon components is a lesson in futility. It is not a cure for action problems in an affected Steinway piano. The only sure cure is replacement of the defective components with quality, dimensionally correct, genuine Renner, Steinway factory, or Wessell, Nickel and Gross high performance parts (see next section).
---
Our replacement piano action parts of choice include 3 quality parts makers described in more detail below:
The reasons we choose this maker is a track record of proven quality (since 1882), and exact geometry reproduction for vintage Steinway and Sons pianos. Renner produces more than 3 different shank and flange configurations, and 3 different wippen configurations. These choices provide the exact fitment needed to make a vintage Steinway perform and feel perfect.
The quality of the Renner hardwood (Hornbeam) used on the parts exceeds the specifications of maple, and the center-pinning is always firm and sluggish-free. The premium blue Renner hammers produced are offered in many different sizes and weights that can exactly duplicate what was originally intended for use in the vintage Steinway action. The Renner hammer uses Wurzen wool felt which is considered the premium material to make a hot pressed hammer.
Renner action parts are currently used by the finest piano makers in the world which include: German Steinway and Sons, Mason and Hamlin, Bösendorfer, Schimmel, Fazioli, Bluthner, Grotrian-Steinweg, and many others. Nothing we have used in the past comes close to the quality of Renner parts.
In 2006, Franco was brought onto Renner USA's "Piano Technician on Demand" service, where he is available for piano technicians throughout the country to contact him regarding technical questions on using genuine German Renner piano parts in high-end piano restoration.
Simply stated, the American Steinway factory replacement parts have undergone a tremendous improvement in quality over the last few years. Steinway currently offers 2 different American shank and flange configurations (standard round maple shanks, and a new hexagonal maple shank), and their standard wippen replacement. The pinning of the components is outstanding, and fit and finish work have improved measurably throughout the wippen bodies. The addition of the hexagonal shanks is another tremendous step in maintaining stability of the hammer angles with less shaft twisting.
The factory Steinway hammer is a cold pressed design which utilizes liquid lacquer in order to build tone up in the component. The felt density has greatly improved, and absorption of lacquer is even and consistent all the way up the scale. Final voicing is achieved through careful hammer to string fitment, and "sugar-coat" needling of the hammer heads. The Steinway hammer is a maple moulded component which is cut thick and heavy, and is designed to fit actions with high leverage ratios.
Great care must be taken when using American Steinway factory parts on vintage Steinway pianos. Old Steinway actions have very compressed action ratios built into the stacks and keysets of their pianos. Very small and light Hammers were used at the turn of the century, which worked very well with these types of actions.
Generally speaking, modern Steinway grand pianos, dating from the 1950's and up, are the best candidates to use American Steinway factory replacement parts. When installing a new keyset that has key leverages corrected for heavier components, these parts also excel in performance restoration work.
Due to Steinway's commitment to improve their components substantially, and for the consumer who insists on genuine American Steinway factory parts, we can now confidently recommend these components for high quality piano restorations.
Early use of plastic in piano actions from the 1930's and 1940's resulted in horrible degradation of the materials, to a point where they simply disintegrated when handled. This was caused by a basic lack of knowledge about the characteristics of the materials at that point in history. It rendered many pianos, mostly spinets and small uprights, completely useless, and not worth repairing. This has also resulted in giving plastics and composites a "bad-rep" in the piano industry.
In December, 2008, the Wessell, Nickel and Gross company introduced their new line of replacement composite action components for pianos such as Steinway and Sons, Mason and Hamlin, Bösendorfer, and many others. These types of revolutionary components have been used for many years by manufacturers such as Yamaha and Kawai, with Kawai leading the industry with their development of the Millennium III ABS-Carbon Action. These new composite materials have undergone years of testing and evaluation, and the advantages over wood components are significant.
Composite components have greater strength, uniformity and accuracy over their wooden counterparts. Wood is hygroscopic and will change with the different levels of humidity that naturally occur in their environment. Over many years, the effects of these changes show up as warping and distortion of the wooden components. Composites are completely free of these effects.
Wood is organic, so its structure varies greatly from piece to piece, making machining of the components extremely difficult, and very hard to duplicate to the same standard each time. Because of the injection molding process, composites are duplicated to a precise standard with each piece produced.
The following pictures illustrate the radical new "look" of composite action parts versus traditional Renner action components:
Click on the images above to enlarge.
Despite the improvements and proven benefits that composites offer over wood, many traditionalists and piano industry leaders denounce the use of these high-tech components. It is much easier to dismiss something new as a gimmick or unproven, rather than to give it a fair chance and evaluate the facts. This makes the road to acceptance very difficult for any company striving to develop new and improved products for the piano market. Wessell, Nickel and Gross has produced an exciting new line of piano parts that will far exceed the specifications of wood.
2013 UPDATE:
Pictured above you will see Wessell, Nickel and Gross' newest version of their composite action parts. Wessell, Nickel and Gross has switched to using stainless steel centerpins with tolerances twice as stringent as traditional centerpins. The return spring (or butterfly spring) has also been produced in stainless steel. In addition, all felt pinning material has been replaced with "hard bushings" which do not react to normal temperature and humidity changes.
As a result, consistency, which is crucial for regulation and uniformity, has also been substantially increased. You might also notice the special fit shank and flange assembly providing true micro-customization of knuckle position for varying action types and styles shown in the top row of images.
Wessell, Nickel and Gross has developed the most complete composite action parts assortment currently available to the piano technician. We have composite actions currently in high-use under extreme climate conditions undergoing rigorous use. We can say with all confidence that the durability of these components is on par and actually superior to many traditional wooden components currently being manufactured.
Franco Skilan, RPT of Precision Piano Services is a fully trained and licensed technician recommended by the Wessell, Nickel and Gross factory to install their composite action parts. To read more about this company and their composite action components, please visit the Wessell, Nickel and Gross site.
---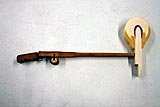 The most common problem associated with a heavy action is incorrect parts selection. Most rebuilt pianos we encounter have the wrong parts installed on them. Too heavy a hammer will cause the piano to play like a truck. Wrong part dimensions destroy the geometry of the action, resulting in a heavy touch-weight.
Believe it or not, we even see piano actions come directly from the factory with incorrect rail configurations making the parts on the action line up incorrectly! Parts selection, geometry analysis, and fit and finish of all the components, will correct the "heavy playing piano" syndrome.
---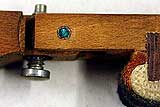 The most common cause of sticky keys on vintage Steinway pianos is Verdigris on the centerpinning, or pivot points of the action components. For many years, Steinway dipped their action parts in a paraffin oil to act as a preservative for the wood. The result is a chemical reaction with the center pins and felts on the parts, causing Verdigris corrosion (see picture). There is no permanent cure for Verdigris. The parts must be replaced to correct this situation.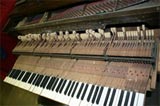 To the right is an extreme example of a 1920's vintage Steinway and Sons grand piano rendered completely unplayable by Verdigris. Almost all the hammers are stuck in the air by Verdigris seizing the centerpin.
---
Pianos are made of wood, metal, felt and leathers. These parts will all change with age. Leather hardens, felt wears out, wood deteriorates, and metal fatigues. As the piano gets older, the combination of all these parts changing results in a piano that will have playability issues (no more controllable pianissimos or fortissimos). There will be noise in the action, noise in the pedals, strings breaking, and a general sloppy sound and play.
We find that many times, a pianist simply becomes used to the piano playing at a substandard level, and they simply adapt in order to make it work. This results in very poor performance. When this same person plays a recently restored instrument, not only does their performance improve, but the joy of playing the piano is restored!
---
The simple answer is that since about 1990 on, we have been living in the golden era of piano rebuilding. As rebuilders, we have the best resources ever to obtain and use the highest quality piano parts ever produced for the piano industry. This was not true in the 1960's through 1980's. Many times, there was only one choice in a piano component, and it was usually wrong. Even with the best of intentions, piano rebuilders during that time period would have to compromise, and make things work (whether they fit or not). This leaves many consumers with the decision to rebuild their piano (again), with proper materials and workmanship. The advantages are now far better.
---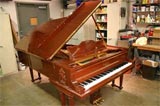 Buying a used vintage Steinway can be one of the most stressful experiences a consumer can go through. The used piano business is not unlike the used car business. Many sellers, whether intentionally or not, misrepresent the facts about used pianos. The old saying, "You get what you pay for," usually rings true when buying a used rebuilt piano. Attention to detail is not something that can be done to a piano for a low price. There are MANY more poorly restored Steinway's in the used marketplace than good ones. In general, the cheaper the piano, the lower the quality of the instrument. Great care and research should be used when buying a vintage, rebuilt Steinway.
---
We believe one of the best ways to end up with a high quality, properly restored Steinway and Sons, Mason and Hamlin, Bösendorfer, or other high-end piano is to look for a good "core" vintage piano at a reasonable price that has NOT been restored. Then assess the instrument with a QUALIFIED piano rebuilder who can tell you exactly what is needed in order to achieve the result that you are looking for.
Chances are, if the core piano has not been subjected to major flood or fire damage, and the design is modern (usually post 1890's), you will exceed factory standards in the outcome of the restoration. Even if you need to restore the piano to an "as-new" level involving a new soundboard, new keyset with action, and complete refinishing, your final cost can still be down to one half to two thirds of the cost of a new high-end piano.
If you find a Steinway and Sons or other quality vintage piano you believe may have the potential to become a great instrument, Precision Piano Services can help you determine exactly what it will take to make it happen.
---
We do not buy and sell pianos. Our business is piano restoration, rebuilding, and service only, with an emphasis on vintage Steinway and Sons. We occasionally inherit pianos that have been abandoned by clients for one reason or another. These pianos are finished as intended, and are available for purchase upon completion. Please call for any current projects we may have underway.
As stated above, if you find a good "core" piano that you think may have the potential to become a great instrument, we can help you determine exactly what the piano will need in order to make the transformation.
---
One of the most daunting tasks for a consumer considering piano restoration is their choice of a piano restoration specialist. Here are a few tips to help guide you in the right direction:
PLAY the pianos that have been finished by the restoration company. Are there a lot of excuses that come up during the "test drive" of the piano? Are they all not quite finished, or will the actions get easier to play the more you use it? Do they need more tuning or more voicing to sound good? Lots of imaginative excuses should be a red warning flag to anyone considering a restoration with this type of company!

A large facility full of machines, tools, and jigs does not mean skilled technicians are involved. The ultimate touch and tone of a piano are only learned through years of study and practice. A good piano rebuilder should spend YEARS tuning and tone regulating new and used high end instruments in order to hone his/her skills in determining what a piano should truly sound and play like. Ask for reputable references and proof of the technician's history of piano service. Most of the time, a good rebuilder's name will come up multiple times and from many different, and well respected tuners, technicians, reputable dealers, and pianists.
Is the emphasis of the company more on selling pianos? As stated above, we believe the most honest advice about restoring pianos comes from those that have no interest in the buying and selling of pianos. If there are "hundreds of used pianos available," or claims like, "We restore hundreds of pianos per year," then let the buyer beware.
Are you comfortable with a large wholesale operation, or is a smaller, more personal environment appealing to you? If your main objective is simply to have the beauty and prestige of a Steinway and Sons piano, regardless of touch or tone, then a large scale wholesale restoration outfit might suit your needs. But, the low price and quick completion time for the restoration will be equal to the disappointing quality of the final result. There is no possible way for high level, concert-ready piano restoration to be performed quickly, or for low price. There is so much intricate detail required to bring pianos that are 50 to 150 years old to an "as new" condition, that low prices and poorly paid laborers simply cannot provide this type of work. You as the consumer must make the best decision that suits your needs.
Be wary of advertising hype. Statements such as: "Wholesale to the public" and "We beat anyone's prices" are typical of a company or individual not committed to using proper piano restoration techniques. If a rebuilder is unwilling to invest the effort and expense of restoring a piano properly, the overall result will reduce your fine piano to the level of a cheap imitation.
Anyone can run a free ad. Classified ads, especially the free online classifieds, are heavily populated with unsavory service providers preying on unsuspecting consumers. Always check credentials for something as valuable as your fine piano. Ask a trusted source for a referral.
Question everything you read online. The wealth of information available online is staggering. Access to qualified answers to your questions is easily available through forums and other online resources. Unfortunately, the Internet also breeds a lot of pretenders who masquerade as experts. If you're looking for reliable information, you'll want to get solid data to back up any claims so you can discern the pretenders from the real experts.
A professional looking web site can be misleading. We hope you like our web site and consider it to be a nice design. It also shows up high in search results. But there are also other piano restoration companies with nice sites that are easy to find, and not all of them are what they seem. Some of them are better at marketing than they are at piano restoration. No matter who you choose, nothing beats visiting the rebuilder's studio, verifying they have a passion for fine pianos, and playing the pianos they've restored.
---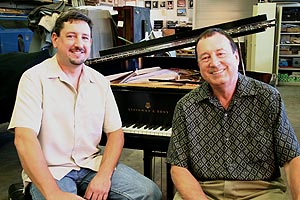 Franco and Giovanni Skilan of Precision Piano Services have devoted their lifetimes to restoring the finest pianos in the world, especially vintage Steinway and Sons pianos, with an attention to detail and skill unrivaled in this field. They use their experience to give discerning clients the finest looking and sounding pianos to enjoy for decades to come. We invite you to call and make an appointment to see, play, and hear their work first hand, and to experience a higher level of piano restoration.
Find out more about Giovanni...
See the PBS interview with California Gold's Huell Howser about our family owned piano restoration company from Huell's series, The Bench. Run time: 25 minutes, 20 seconds.
Huell Howser, 1945-2013 — It is with sadness that we update this site with the passing of Huell Howser in 2013 at only 67 years old. We were honored to have met Mr. Howser and retain this video here as not only a celebration of having been interviewed by him, but a tribute to his memory.