Piano Services Featured in This Gallery:
---
Images in our Piano Services Gallery can be enlarged by clicking on the image.
---
Steinway and Sons Piano Restoration
Restoring the World's Most Famous Piano
Identifying Your Steinway and Sons Piano
These pictures illustrate where to look for the Serial and Model Number (above left), and Part Number (above right) for your Steinway and Sons grand piano. These numbers can be easily identified on the plate, underneath the music rack (which simply slides out of the piano). If the numbers are not on your Steinway, it has more than likely been refinished and carelessly left off the instrument by the refinisher. Not to worry—Part Numbers and Serial Numbers are in multiple places on Steinway instruments—it will just take a little more effort to find them! The word "Ebonized" indicates that the piano was destined to have a black finish.
---
Patented Steinway and Sons Grand Action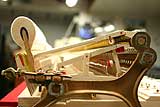 Here we see a side view of the famous, patented Steinway and Sons grand action. Notice the 3 Tubular Metallic Action Rails that hold the flanges and let-off buttons in place. Steinway has used this type of action frame for over 100 years. New Renner action parts and hammers are installed, and this "stack" sits atop a brand new Spruce keyset. The ultimate in piano action restoration!
---
Above are pictures of a Renner damper tray replacement, completed and ready for installation into a Steinway grand piano. Renner's replacement tray duplicates Steinway's original, and most desired, tray configuration (the "long-arm" underlever), which enables us to use the exact geometry necessary to achieve the best in damper system performance. Additionally, this also allows us to replace the myriad of Teflon® era damper systems out there that have the geometrically incorrect "short-arm" levers which contribute to poor damper performance, poor pedal performance, and premature key-end felt wear. The damper system is also one of the most overlooked components in the wholesale piano restoration business today.
---
Bead Blast Cleaning of Steinway and Sons Piano Action Stack to Remove Corrosion
The finest glass beads available are used in our sandblasting cabinet (which can house an entire concert grand action), to remove years of corrosion and dirt. Notice the screws for the piano action parts are installed not only to clean them, but to prevent the glass beads from clogging the rails.
---
Vintage Steinway and Sons Model A1 Grand Piano
Here we see very thorough belly work on the first Model A Steinway design ... the A1 6'1" piano. This piano includes new pinblock, new soundboard with bridge cap, and rim and case repairs. Steinway developed 2 more versions of the model A culminating with the A3, at 6'4" long. Note this early design incorporates a third bridge to accommodate 9 notes in the tenor section of the piano that utilize bass strings (2 double and 7 trichords). This scale design has some inherent drawbacks and was quickly replaced with the A2 that removed the third bridge.
---
Old Piano Bridge vs. New Piano Bridge
Above left, is an old original bridge upon dismantling of the piano for restoration. On the right is a brand new reproduction.
---
1883 Steinway Model A1 Original Soundboard
This original soundboard on an 1883 Steinway and Sons Model A1 grand piano has been removed from the rim of the piano. Notice how every one of the ribs have detached from the piano and remained on the rim when we removed the board. Immediately noticeable in the second picture is an attempted fix where a "piano technician" in the distant past wedged a large angled shim underneath the #11 uppermost treble rib in an obvious attempt to stop an annoying buzz.
This sometimes will cure a buzzing situation, but at the expense of completely destroying any tone and sustain that the board is designed to provide. Without the ribs firmly attached to the panel, any cracks present will easily separate and cause horrible buzzing and vibration, and only proper repairs can cure this situation. As you can well imagine, there was no such thing as "Crown" on this board.
This is a prime example that shows why old soundboards do not stand the test of time, and eventually need to be replaced. This piano's soundboard was beyond any reasonable repair in this condition, and was replaced with a dimensionally duplicated new soundboard and bridge tops.
---
Restored Steinway Treble Bridge Section
---
Steinway and Sons Early Front Duplex Bearing Bars
Notice that each note on these Steinway and Sons early front duplex bearing bars has an individual rest located in precisely the correct position. The last picture (above far right) shows Steinway's later design change to generic slanted bars that are still used to this day.
---
Teflon Piano Action Components - Genuine Renner Replacement Parts
Above are Teflon action components before and after genuine Renner parts have been installed. Note the cleanliness of the the stack and uniformity of the parts installed.
---
Piano Hammer Action Components - Using Genuine Renner Replacement Parts
One of the most common and major problems in piano action rebuilding today is the incorrect use of heavy hammers in vintage Steinway pianos. The Japanese hammers that were used predominantly in the 1980's, are substantially heavier than the current special order Premium Renner Blue Hammers that we use on most vintage Steinway and Sons pianos.
The most significant problem visible in this example is at note #26 (center photo), where we see the Japanese hammer is 2.3 grams heavier than the Renner replacement. Understanding that each gram at the hammer end of the shank increases touch-weight by 5 grams at the key, the Japanese hammer would make note #26 about 12 grams heavier to the touch! Amplify this with incorrect parts selection that have geometry problems, and it is easy to see how an inexperienced technician can ruin the performance of a Steinway piano action.
It is not uncommon for us to see poorly restored Steinway piano actions with down-weight measurements of 90 grams, and up-weight measurements of as low as 10 grams. In addition to that, many technicians will try to compensate for these poor performance numbers by inserting 6, 7, or sometimes even 8 leads in a desperate attempt to improve the touch of the piano. This is futile exercise that only makes the situation worse.
---
Steinway and Sons Piano Hammer Placement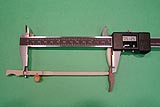 Current Steinway and Sons piano specifications call for the hammers to be hung on the shank at 51/8". Vintage Steinway actions have hammers that are hung anywhere from 5" to 51/16" on the shank. Here, a 1/8" difference would be drastic if not corrected properly! In fact, the last few upper octaves of the piano are the most crucial for hammer placement. Our hammers are hung according to the best possible sound produced, in relation to the optimal placement of the action fore and aft. "Pre-hung" hammers on shanks available from the factory do not work properly in most older Steinway and Sons pianos.
---
Vintage Steinway Pianos and Verdigris
For years on early vintage Steinways, the action parts were dipped in a paraffin oil to act as a preservative for the wood. This accounts for the dark color of vintage Steinway parts. A drawback of the dipping solution is the chemical reaction with the centerpins and all the moving parts, resulting in what is known as Verdigris. This Verdigris gums up on the centerpins and felt (the green patina shown in the close-up), and results in sluggish action parts. This is one of the most major problems with older Steinway pianos. There are no permanent fixes for this condition other than replacing the defective components with new parts.
---
Replacing the Agraffes is Standard Procedure When We Rebuild Steinway Pianos
All of our rebuilt Steinway and Sons pianos will include replacing the agraffes. Agraffes are made of brass, and if they have been over-torqued at the factory, they will eventually break. This will take 70 years sometimes, but it will happen! Nonetheless, new clean agraffes not only look nice, but contribute to better tone in the piano. The steel wire that goes through the agraffes is harder than the brass, so it will eventually deform the round holes making them oval.
---
Filing of the Capo D'Astro Bar When Restoring Pianos
Along with replacement of the agraffes, capo bar filing is essential to remove old string grooves, and to make sure the profile of the bar is at its optimal shape. This is one of the most overlooked steps in the "wholesale piano rebuilding" end of this industry.
---
Rebushing of the Piano Keys
---
Polishing Piano Keytops
Polishing of piano keytops is a necessary maintenance to restore luster to both plastic and ivory keytops. Rouge selection, polishing wheel selection, and wheel speed are important factors in achieving the perfect results.
---
Measuring Piano Key Dip on the Action
---
Traveling of the Piano Hammershank
Traveling of the hammershank in order to insure that the hammer will advance and strike the strings in the appropriate manner.
---
Accurately Reproduced Vintage Steinway Hammer-Butt Replacements
Here we see a replacement hammer-butt for a vintage Steinway upright (above right). Imadegawa Company of Japan is currently the most accurate reproducer of this hard to find component. Even the damper levers and wippens are reproduced to the exact dimension needed in order to insure a proper feel and action response. Vintage Steinway upright pianos excel when these components are used to restore the action of the piano. Abel hammer samples prehung at each end section are shown above left.
---
Piano Vorsetzer
RUN TIME: 1 minute, 22 seconds
This video demonstrates our own one of a kind Vorsetzer Player System utilizing custom built PianoDisc solenoids and components. Just as those used by many high end piano manufacturers' factories, all of our newly assembled actions run through a minimum of 12-24 hour break-in period (20,000 to 40,000 repetitions). This procedure ensures proper regulation and tuning stability, hammer break-in and voicing stability right from day one of use in our customer's home or studio. This system is designed to work on a wide variety of piano actions, and has been in use now in our facility since January 2012.
1929 Steinway Video Showing How Steinway Pianos Were Made
RUN TIME: 8 minutes, 10 seconds
This interesting, historical film shows the process of producing hand-made Steinway and Sons pianos at their New York factory. It even features the piano music of Scott Joplin.
This is an unused marketing video produced by the Steinway Company in 1929 displaying how they manufacture their Style B Grand Piano. Most of the techniques have stayed the same in the 80 year interim.
For more on Steinway, visit the La Guardia and Wagner Archives web site. There you will find a rich collection of photographs and documents about Steinway and New York City's history.
Enjoy this brief bit of history to further your appreciation of vintage Steinway and Sons pianos.
Piano Services Featured in This Gallery: