Testimonials About Precision Piano Services
These testimonials from some of the individuals and organizations we have provided service
for showcase our commitment to quality better than anything we could say ourselves.
Here are a few individuals of note that have utilized our piano services in one form or another: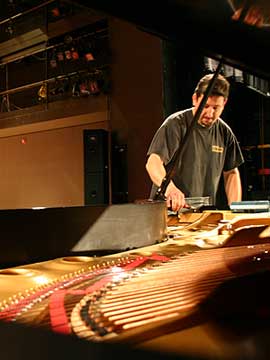 Arnold Schwarzeneggar (actor, former Governor of California)
Maria Shriver (journalist)
Andy Garcia (actor)
Nicholas Cage (actor)
Dick Clark (actor, producer)
Anthony Hopkins (actor)
Sylvester Stallone (actor)
Charlton Heston (actor)
David Carradine (actor)
Kirstie Alley (actor)
SEAL (singer, songwriter)
Ed McMahon (actor, late-night sidekick)
Alyssa Milano (actor)
Jeanne Tripplehorn (actor)
Leland Orser (actor)
Geena Davis (actor)
Patricia Arquette (actor)
Joe Mantegna (actor)
C. Thomas Howell (actor)
Lori Loughlin (actor)
Kyle MacLachlan (actor)
Richard Carpenter (singer, songwriter)
Bobby Troup (actor, songwriter "Route 66")
Giovanni Ribisi (actor)
---
Custom Piano Restoration Exclusively for Keyboard Concepts in Southern California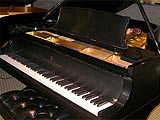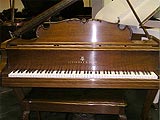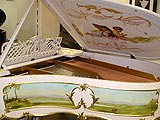 Precision Piano Services has provided high level restoration work for Keyboard Concepts for over 28 years. Only premium, high quality "core" pianos are chosen for these extensive restorations, and offered for sale in the network of 5 piano stores. If you are looking for a properly restored Steinway and Sons, Mason and Hamlin, Bösendorfer, or other exceptional piano, chances are Keyboard Concepts will have one meticulously completed by Precision Piano Services.
For more information on this fine company, please visit Keyboard Concepts web site.
---
City of Thousand Oaks Civic Arts Plaza (Thousand Oaks, CA)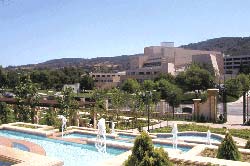 Franco Skilan RPT, has been the official piano technician of the Performing Arts Center since its grand opening in 1993. Duties include the weekly tuning, maintenance, regulation and voicing of the 6 pianos used by the facility: 2 Steinway Model D concert grand pianos, 1 Yamaha CFIII concert grand Disklavier, 1 Yamaha C3 professional grand, 1 Yamaha U1 professional upright, and 1 Kawai UST-7 rehearsal piano; these are all used regularly and serviced frequently.
---
UCLA University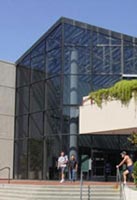 Precision Piano Services has rebuilt numerous Steinway grand pianos used throughout the Music Department of UCLA, including the Steinway Model C grand with new soundboard used in Schoenberg Hall.
---
Los Angeles Times December 13, 1994

The Event of the Year
An article written by Jill Leovy during the reconstruction of Los Angeles and the San Fernando Valley, following the Northridge Earthquake of 1994. It features Precision Piano Services' efforts to restore many earthquake damaged pianos in the region. See the pictures and story here on our site.
---
What some of our piano restoration clients have to say about us:
Dear Franco and Giovanni,

Thank you for such and amazing piano! I recently purchased a 1923 Steinway D that you restored and she is phenomenal! The bass can be startling with her force and the treble is like playing hand bells. A friend who has sold pianos for 45+ years cried when she heard her. After years of searching, I finally have the perfect piano!! Thank you!
Linda Reese
Fort Worth, Texas
1923 Steinway Concert Grand
Franco,

When I purchased my 1926 Steinway B twenty years ago, I had it overhauled completely, the results from which I lived with until now when a string mounting pulled out, requiring the work just completed by Precision Piano Services. I never imagined such a positive transformation was possible—the formerly sluggish touch and variable quality of sound from top to bottom, has now been reborn as an exquisitely uniform and sensitive keyboard and tone, which has given so much more than simply a rebirth to the instrument. Thank you Franco, not only for the extraordinary quality of your work, but as well the totally professional process you followed in accomplishing this miracle.
Paul J. Livadary
1926 Steinway & Sons Model B Grand Piano
Dear Franco and Giovanni,

This is to let you both know how happy I am with the work you've done on my piano.

My concert grand Baldwin was built originally in 1942 and although I bought it used, it has a lot of sentimental value to me. To my horror, it was seriously damaged in a plumbing flood and I assumed that saving the instrument was hopeless. When I visited my piano at your shop, I saw that you had placed heat lamps on the inside, to dry out the wood and prevent further damage—even before the insurance issues had been worked out. Upon seeing this unconditional care and your clean and organized work space, I knew right then that if there were a chance that my piano could be saved, that you could do it.

Well, not only did you save my piano, I know it's better than new! Each step of the way, I feel that you exceeded the standards of what would have left the factory originally. You are able to combine an old-world craftsmanship with new-world technology to produce the best results. This includes a customized and superior action adjustment potential, key-width standardization, pedal modifications for quiet action, not to mention beautiful soundboard installation, pin-block, restringing, case refinishing, and hundreds of other little details that I don't even know about.

The results are that I couldn't be happier. Thank you for you excellent quality and integrity.
Howard Richman
1942 Concert Baldwin SD10
Franco and Giovanni,

I just wanted to take a minute and thank you for the excellent rebuilding job you did on my Steinway A, #231098. It plays beautifully, sounds wonderful, and looks like a brand new piano! A far cry from the condition it was when I brought it to you! I love it more each day I play it!

The skill and craftsmanship you put into your work certainly shows. In a day and age when there are few craftsmen around, it certainly is refreshing to find people like you.

If you ever find yourself in need of a reference, please feel free to call on me. Thank you again.
John Chico
Steinway and Sons Model A. Grand, built in 1925
Dear Franco,

The piano is simply amazing! It sounds better than some Steinways I have played! Your craftsmanship allows me to experience, on a daily basis, a wonderful instrument. It is important you know how profoundly and deeply grateful I am for the time and energy you spent on my behalf. I cannot find the words to truly express how blessed I feel, so I will just say thank you, THANK YOU!!!
Rebecca Davis
Young Chang grand piano
Dear Giovanni and Franco,

It is Thanksgiving and I want to express to you both my deepest gratitude for your gorgeous restoration of my little brown 1942 Steinway.

Thank God my childhood piano of 40 years ago found its way to your hands. I was truly afraid it would never again sound—and feel—the way it did five decades ago…but it does! You two are miracle workers!

With appreciation and awe,
Linda Ross Webber
Steinway console Model 40 #313300 built in 1942
Dear Franco and Giovanni:

Thank you ever so much for the wonderful work you did restoring my 1903 Regent upright piano.

I have had it for about 45 years and, over those years, the piano slowly degenerated to the point where it was difficult to play, could not be tuned up to pitch, and required more and more repairs.

The work you did was astonishing. The piano looks and feels brand new. In fact, better than brand new as the parts you used are superior to what was available in 1903 when the piano was first built.

The tone is robust and satisfying; the action is smooth and responsive; the finish looks terrific. In all, you have created an attractive instrument that is a pleasure to play, with a superb sound that is well beyond anything I could have imagined.

The level of craftsmanship and skill you used to restore my piano is astonishing. I appreciate all the hours you put in doing such detailed work.

Thank you for doing such a good job and giving a very old piano the new lease on life it deserved.

Very Truly Yours,
Harley Hahn
1903 Regent Upright Piano
---
Google Reviews
I am so pleased with the quality of Franco's work. I love playing this piano, and it looks beautiful in our home. Without question I would recommend his services. It was an effortless process on my part with 100% satisfaction from beginning to end.
See more reviews on Google...